It's odd to think of J. R. R. Tolkien and C. S. Lewis in music, but that's exactly what I do when listening to The Gray Havens. It's not because their music contains Elvish rhymes or talking beavers, but because it's laced with imaginative stories, biblical imagery, and echoes of our ultimate home. "The imagination, attention to detail, and authenticity portrayed in The Lord of the Rings is unparalleled," Dave Radford shared with me last year. "I try to emulate the same kinds of qualities in my songwriting."
Earlier this year this husband-and-wife duo released a new full-length album, Ghost of a King [iTunes | Bandcamp]. I corresponded with Dave about how a ghost gave shape to the album, how he fights for contentment as an artist, how a longing for Eden is expressed in our lives, and more.
---
"Met a ghost." How do these three words give shape to your newest album?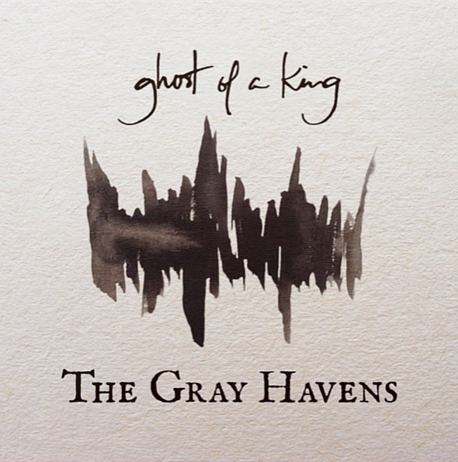 A while back, I recorded a voice memo on my iPhone that started with the words, "Met a ghost." I saved the recording, went about my life, and found it buried on my phone two years later. At the time, the words didn't mean anything. I was just singing jibberish along with the guitar part I'd worked out. I hardly ever begin with a lyrical concept or idea when writing a song. It's more about melody and word flow at the start. Eventually a string of words will sound good together and a firm direction usually presents itself.
I finally found some direction when I kept coming back to "where no chariot can take you." This reminded me of Psalm 20:7: "Some trust in chariots and some in horses, but we trust in the name of the LORD our God."
"Ghost of a King" is ultimately about new life in Christ and how salvation can't be accomplished in any way through the strength of man.  
Your song, "Band of Gold," is an ode to marriage, to your commitment to your wife, Licia. What's the best lesson you've learned about marriage?
I'm certainly no marriage guru, but I've found that praying together daily, even if it's just one or two minutes, is a big deal. The consistency and normalcy provides an open channel to pray spontaneously about anything anytime, which we need.
In "Take This Slowly," you seem to fight discontentment and reaffirm your trust in King Jesus's provision.
I'm not asking for mountains of riches, no silver or gold
Don't need fame or fancy things I can take when I go
I'm just asking for grace, grace to carry on
Grace, to take joy in my place at the table
And the Rock that it's standing on.
When making ends meet is largely dependent on people knowing who you are and spreading the word, how do you fight for faithfulness, joy, and contentment as an artist?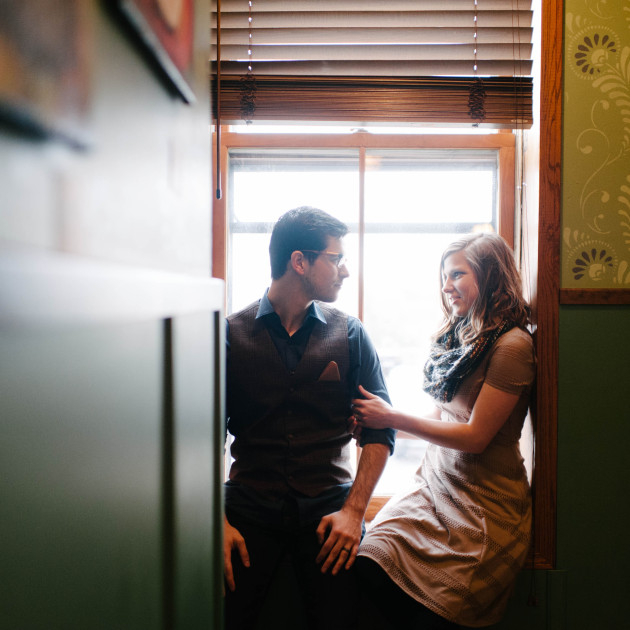 There's a real tension in having our faces and personalities attached to our work as artists. Our goal is to awaken wonder and joy for the Lord and his glory through song, not to awaken wonder and joy for ourselves. So how do we do that?
We try and make excellent records and perform them live to a (hopefully) growing audience. And that's where the tension lies. Like it or not, we are attached to the music in some way. Not much we can do about it. Questions like "How do you process applause, acclaim, recognition?" are among the many I've asked some older, more experienced believers who've been doing this a lot longer than we have.
I asked a fairly accomplished artist how he thinks about it, and he responded with an anecdote that he was given by a counselor. This particular counselor works a lot with artists, so at the beginning of their conversation, my artist friend says (paraphrasing here), "Okay, so before I bare my soul to you about my life and my issues, answer me this. After counseling hundreds of artists over the years, what's one thing you can tell me for certain?" The counselor was pretty hard-hitting: "The human heart was not made for fame." Ouch. All that to say, having a public platform is dangerous. Does this mean no one should have one? I don't think so. But I do think it means we should be that much more on guard against all the snares that come with it. 
As far as contentment goes, there are certainly particular challenges that come with being an artist, but I'm not sure they're much different in class than the challenges of contentment that most people face. "Comparison is the thief of joy." Commonly attributed to Theodore Roosevelt, this quote is exactly right. Personally, I've found social media apps to be joy-destroyers and time-wasters, so I've deleted all of them for months now. It's been great. That doesn't mean I don't fall into the same comparison traps on my laptop. That's just one example. Another would be praying specifically for the artists you're most prone to be jealous of. 
Fighting for joy is something I'm currently struggling with, though it has less to do with being an artist and more to do with being a day-in-day-out believer in Christ. My temperament is to be a legalist, which takes its shape in thinking that I'm never doing enough for God. A couple books and sermons have been helping me a lot lately, beginning with Sinclair Ferguson's The Whole Christ: Legalism, Antinomianism, and Gospel Assurance—Why the Marrow Controversy Still Matters [review | 20 quotes | Tim Keller's foreword]. I've also dipped in and out of Marcus Johnson's One with Christ: An Evangelical Theology of Salvation. The sermon series by John Piper called "The Demonstration of God's Righteousness" is also great (part 2 was particularly helpful). 
"Biblical theology" isn't the first thing I usually associate with a music album. Would you say that's what you're doing in your music? If so, is it intentional or does it happen naturally?
The short answer is yes, that's what I seemed to be doing, but no, I certainly didn't have an overarching theme in mind when I was writing. That said, I can understand why this might have happened. First, I wrote many of the songs in a condensed timeframe. So it's easy for lyrics and ideas to spill over onto the pages of the next song after you finished the last.
Second, I pray a good deal about the songs themselves. It's intimidating staring at a blank page before plunging into the tedious process of working out lyrics, so I often pray that God would give me words or themes that will awaken wonder and joy for his glory, both in my own heart and in others. If the songs seem coherent and unified, it's an answer to that prayer. 
Eden—our being expelled from the original garden and our yearning to return—comes up frequently in your songs, including "This My Soul." Why is this longing expressed in our lives? And how is it satisfied?
C. S. Lewis famously said, "If I find in myself desires which nothing in this world can satisfy, the only logical explanation is that I was made for another world." Because we've been wired for something that isn't our current reality—namely, perfect communion and fellowship with Christ in the new heavens and new earth—there should be a natural and constant tension in everything we do.
But there are two sides of the "longing" coin. On the one side, there's sorrow for the presence of sin and death all around us, laced into the fabric of everyday life. On the other, there's joy-filled anticipation for what's to come. Lewis once defined joy as "an unsatisfied desire, more desirable than any satisfaction." I love that. The wanting of one thing, in that moment, was more satisfying to him than the having of anything else.