Megan Alexander is a national news correspondent, host, emcee, speaker, and actress. She can be seen as a correspondent on Inside Edition and as a special correspondent for Thursday Night Football on CBS. Her film credits include Space Warriors, Redeemed, and Love Equals. She was born and raised in Seattle, Washington, and graduated from Westmont College. Megan splits her time between New York City and Nashville. She and her husband have one young son and a dog named Indiana. You can follow her on Twitter:  @MeganAlexander1.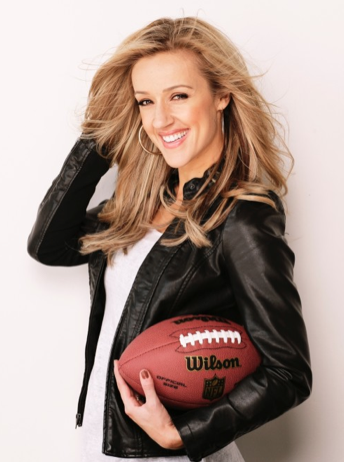 ---
Why did you decide to launch Enlighten Film Club
I wanted to create a space where people could discover films that may or may not get national attention, but that inspire, engage, and encourage conversation. Sometimes the films we screen are explicitly faith-based; sometimes they're not. All of them, though, talk about human nature, relationships, and redemption. After each screening, we have a moderated discussion with actors, producers, writers, and others. It's a personal passion of mine to both create and promote quality art, and this club furthers that purpose.
Would your latest film credit, Redeemed, fall into that category?
Absolutely. It's a film that's on DVD now. It addresses an important topic that ought to be discussed more—emotional adultery. Although I play a minor role, being in it has caused my husband and me to have frank conversations about the friendships we have outside of our marriage and how to keep our marriage healthy. We cannot, and do not want to, avoid male-female friendships altogether, but we recognize that all of us are vulnerable to the temptation of turning friendship into attraction—even if nothing physical happens whatsoever. I think, in this age of technology and social media, this problem will not go away.
In your work at Inside Edition and CBS, how do you try and integrate your faith and your work?
I really hold fast to the phrase, "Actions speak louder than words." First and foremost, I want to be known for excellent work. I am there to do a job—that's my first responsibility. I also try to demonstrate my beliefs and values through small gestures of faithfulness to my colleagues and guests—work with excellence, show up, be organized, meet deadlines, be kind, respect people's time, don't be a diva. I think God calls us all to different industries and uses us in different ways. I try not to limit what God can do or put him in a box. Sometimes simply living your life can be the most powerful testimony. My marriage, how I treat people, and how I carry myself are all important ways to demonstrate my faith.
Have you had other opportunities to share your faith?
A few years ago, someone I knew through church wanted to interview me about how I was a virgin when I got married. I was hesitant for a few reasons. First, I didn't want to seem self-righteous. After all, as someone who reports on human nature, which is raw, honest, and complicated, I know I'm not perfect. Second, I didn't want to expose my husband, who became a Christian later in life and was not a virgin when we got married. Finally, I didn't want my colleagues to identify me solely with this aspect of my life.
But as I looked around and researched others who had made similar decisions to mine, I realized there are few voices for abstinence. First and foremost, I want this younger generation to know you have a choice—you don't have to rush into a physical relationship. If I can encourage one more person to take his or her time and to be encouraged by my choice, then I wanted to do it. I know how important those role models were to me.
In the end, my husband and I talked and prayed about it and decided it was a good opportunity to share the reason for the hope that we have (1 Pet. 3:15). At the time, I had already been at Inside Edition for five years, so I hoped my colleagues, who knew me already for my work, would find this discovery to be intriguing, but not eclipsing. By God's grace, our story was shared on Inside Edition, The Blaze, and several other media outlets.