Two years ago I read a report of The Gospel Coalition's 2014 National Women's Conference in Orlando. That year, a fire alarm went off at one of the main conference hotels in the middle of the night. Mindy Belz wrote about how beautiful it was to see thousands of women evacuate calmly and graciously, many with babies in arms. My own (third) baby, a chubby six-month-old, wiggled on my lap as I read and dreamed about attending the next women's conference in 2016.
When I arrived in Indianapolis last week, I realized the dream had come true. I also realized that in so many ways I didn't know what I was getting myself into. As the pre-conference with Tim and Kathy Keller started, I got a glimpse: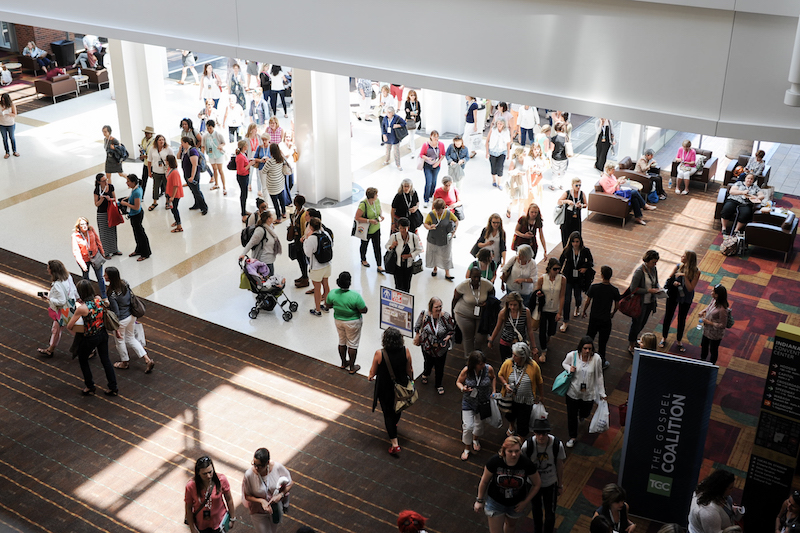 Sometimes I picture these big Christian conferences as idyllic playgrounds for middle-aged and retired women—something I'll have more time for when I'm older. But the truth is that God brought a beautiful diversity of women from various ages and lifestages. A staggering 55 percent of attendees at TGCW16 were younger than 35. At 33, I barely made the cut! And no, I don't want to talk about how I'll affect the statistics in 2018. The implication is thrilling—women of all ages committed to rearranging their lives for a weekend of excellent teaching, worship, prayer, and fellowship.
I did some preparation for the conference—planning meet-ups with friends, with my new boss at P&R, with potential authors, and with my roommate. As I left my family to head north, though, I realized I hadn't done much to prepare my heart.
Not surprisingly, my heart was the aspect most affected.
Challenged, Convicted, and Recharged  
Working through 1 Peter session by session was such a joy. Kathleen Nielson brought steady, faithful instruction that laid the groundwork for the rest of the conference (1 Pet. 1:1–12). Jen Wilkin brought Texas twang and her delightful personality to solid exegesis of the next section (1 Pet. 1:13–2:3). Starting with a hilarious breastfeeding story and ending with analogies for the womanly privilege of childbirth. Several comments were made about Carrie Sandom's delightful British accent (1 Pet. 2:4–10). It brought an unexpected layer of depth to her discussion of the local church, and of our status as the people of God. "Once we were not a people, but now we are," she said. Hearing those words pronounced slightly differently than my own reminded me of the global scope of those whose citizenship is in heaven. Mary Willson blew everyone out of the water (1 Pet. 2:11–3:12). Her delivery was powerful and brave. She knows God's Word and her culture, and God has given her a voice that I pray will do great things for the kingdom. 
Don Carson brought wisdom and a pastoral tone to an especially difficult passage (1 Pet. 3:13–4:19). His humility and encouragement will not be forgotten. A panel on suffering hosted by Nancy Guthrie and featuring Nastaran Farahani, Mindy Belz, Karen Ellis, and Carson informed us of real women facing real persecution across the globe. May we remember them in our thoughts and actions every day. Our sisters are suffering and God is moving mightily. How will we respond? John Piper tackled 1 Peter 5. His care for us—and his passion for God's glory and our joy—were on display. The progression through 1 Peter was informative, encouraging, convicting, and incredibly freeing. We can live a resurrection life, and we are living a resurrection life, even in a world of suffering.
In addition to a pre-conference on prayer with Tim and Kathy Keller, workshops and focus gatherings added layers of learning, discussing, exploring, and refinement to an already challenging conference. So many speakers addressed so many beautiful topics with wisdom and without fear. Spoken-word poetry by Blair Linne and worship by Keith and Kristyn Getty (on their 12th anniversary, no less), as well as an evening with Sandra McCracken, rounded out the sessions. (You can watch or listen to all conference media on a wide array of topics from waiting on God to praying together to glimpsing God at work to dating in the 21st century and much more.)
Inhale-Exhale Element
A friend texted before the conference wishing me a great trip "in my element." As I walked around the Indianapolis Convention Center, which we shared with Indy PopCon and the Indiana Democratic Convention, I saw many "elements"—some dressed as superheroes and video game characters, others with buttons touting their favorite Democratic candidates. I knew my friend was at least partly right. While none of these "elements" was mutually exclusive (perhaps someone hoped to attend all three—surely there's at least one Reformed PopCon Democrat in our crowd), I realized that this conference was also family. And the family of God, expressed last week as TGCW16, is my favorite element.
My pastor-husband sometimes talks about worship in terms of inhale-exhale.
Inhale: We come in together, gathering as the body to sing, pray, study, and respond. 
Exhale: We spread out, the Spirit of God bringing breath and life to our everyday elements—our 50 states and 38 countries—in the world.
May it be so for the women of TGCW16 and beyond.