The worst person I know . . . sent from down below . . . Satan should be her name.
Ernie K. Doe's song "Mother-in-Law" soared to the top of the popular music charts in 1961. "This song will last to the end of the earth," he predicted, "because someone is always going to get married."
Mothers-in-law have been a source of marital strife and the brunt of men's jokes for years, but the relationship between mothers and daughters-in-law can be even more fragile. We both need the gospel, and complicated relational dynamics should drive us to Jesus. 
When Paul directs older women to train younger ones, Paul is specific about what sort of person we older women ought to be: "reverent in behavior" (v. 3). We can't maintain that stance while focused on ourselves.
Am I approaching my daughter-in-law with a sense of entitlement, pointing her to my personal preferences, or am I pointing her to Christ? Does my daughter-in-law really need my input on the baby's feeding schedule? Probably not. But how about my prayers, my affirmation, and my listening ear? Always. 
I reached out to some younger women and asked them to share what they'd like their mothers-in-law to know. Here are eight insights from their collective voices:
1. I want a great relationship with you, but it must be forged over time.
Our friendship will be fraught with mistakes because we are both flawed people. We need to keep short accounts rather than allowing things to fester. If your feelings get hurt, please talk to me. We can grow stronger through resolving rather than ignoring conflict.
2. Remember that parenting is hard.
Caring for your grandchildren is the hardest, most exhausting thing I've ever done. Few women affirm me in mothering, and it would mean so much if you could notice the things I do right. Remind me your son survived all your mistakes, and your grandchildren will survive mine. Try to let me ask for advice more frequently than you offer it. 
Also, I love it when you ask to watch the kids so we can go on a date. I won't insist on it as an obligation. It is always a precious gift to your son and me. Your grandkids love it when you babysit, too.
3. When you want to help, offer a concrete suggestion.
This one is tricky, since each person feels cared for differently. Some of us secretly hope you will jump right in to feed the baby and sweep the floor. Others feel criticized: Wasn't the kitchen floor clean enough? Still others of us aren't sure what sort of help you'd be willing to provide. So, just ask us.
And thank you for being willing to help at all. It means more than you know.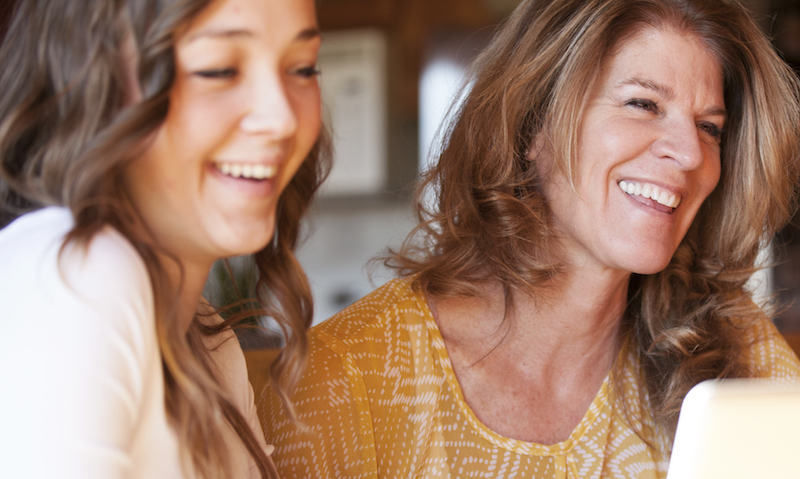 4. Please respect our marriage.  
I don't know how hard it is to let go. Some of the same traits that make us good moms to little boys make it harder when those toddlers grow into men. Don't call him on his honeymoon "just to be sure we arrived safely." Please don't weigh in on our marital spats. Instead, continue to pray for us and trust the Lord to work in our marriage.
5. I'd like to see my folks at Christmas, too.
Every holiday we're torn between two parents and an exhausting car ride that has your grandchildren arriving tired and, well . . . less than adorable. We'll do our best to be fair about where and how long we visit. Please don't keep score at how many Christmases we spend at your home versus my folks. And occasionally, if we asked, would you consider coming to us instead?
6. Guard against favoritism.
I realize I am not your daughter. But it hurts when you cancel plans to babysit my kids to watch hers. Favoritism's first cousin is jealousy. Remember when I told you about my big promotion at work? You said, "Now you're nearly as accomplished as my daughter." That stung. 
7. I have wisdom, too.
I want to sit and glean from your wisdom. You have far more experience with marriage and parenting than I do. But there may be things I can share with you as well. It might be as practical as getting your new-fangled smartphone to work or as deep as what I'm learning in God's Word. I can sit at your feet even more eagerly if I know you respect me, too. 
8. Remember, we love the same man in different ways.
We can be on the same team. Share with me those yellowed grammar school photos. Tell me those stories of cute things he did when he was young. I'll sit and laugh with you, yes, and I'll remember those stories as I raise your grandchildren. One Saturday afternoon I'll tell my husband, "Call your mom. She misses you."
Grace Covers Blunders
I know my own mother-in-law misses her son, who is with the Lord. I'm grateful we forged a friendship while Jim was still alive. We held on to one another the day we placed him in the ground. Jim's mother is slow to speak, covers my sins in love, and yet readily admits her wrong. She is reverent in behavior. Now a mother-in-law myself, I'm grateful for her example.
Aware of the times I've already blown it, I am grateful above all for the cross of Jesus Christ.